Aria is having a tough week! All she remembers is the bad stuff that happens!
Then she discovers something amazing: her brain gets good at what it practices (yours does too)!
She learns to make good thoughts stick too, just by paying attention in a new way.
Join Aria in exploring how to use your own brain changing powers!
Teaches kids to discover and use their own brain-changing superpowers
Includes practical mindfulness tips and exercises for the whole family
Helps everyone see that we don't have to feel bad about feeling bad!
Endorsed by beloved children's entertainer Raffi. Yes, that Raffi!
A mindfulness and neuroplasticity storybook, empowering children to understand their minds, change their perspectives, and find more happiness in their lives
Praise for Sticky Brains
This beautifully illustrated story shows how we can stay mindful and value our blessings. A treat to share with your kids. A bright and creative "Self Reg" book.

Raffi — Singer, author, founder of the Centre for Child Honouring
Sticky Brains is a playful yet powerful book that will help young children (and the adults who love them) understand the why our brains get stuck on the negative, and more importantly support them in developing the ability to see and enjoy the positive. This is a wonderful practice to do both with your child(ren), and in those moments when your child(ren) are challenging you.

Dr. Amy Saltzman, author of A Still Quiet Place
"I loved Sticky Brains, it made me smile. It is so wise and simple. Kids, friends, and grown-ups will like it and it will change your brain in the best of ways!"

Bob Stahl, Ph.D. coauthor of 5 books including A Mindfulness-Based Stress Reduction Workbook, MBSR Everyday, and Living with Your Heart Wide Open.
Introducing children to neuroscience is profoundly empowering. Describing how our brains work immediately gives youth a sense that they can affect their emotional experience. Sticky Brains is a great story to demonstrate the neuro-habits of the mind.

Megan Cowan, Co-Founder, Mindful Schools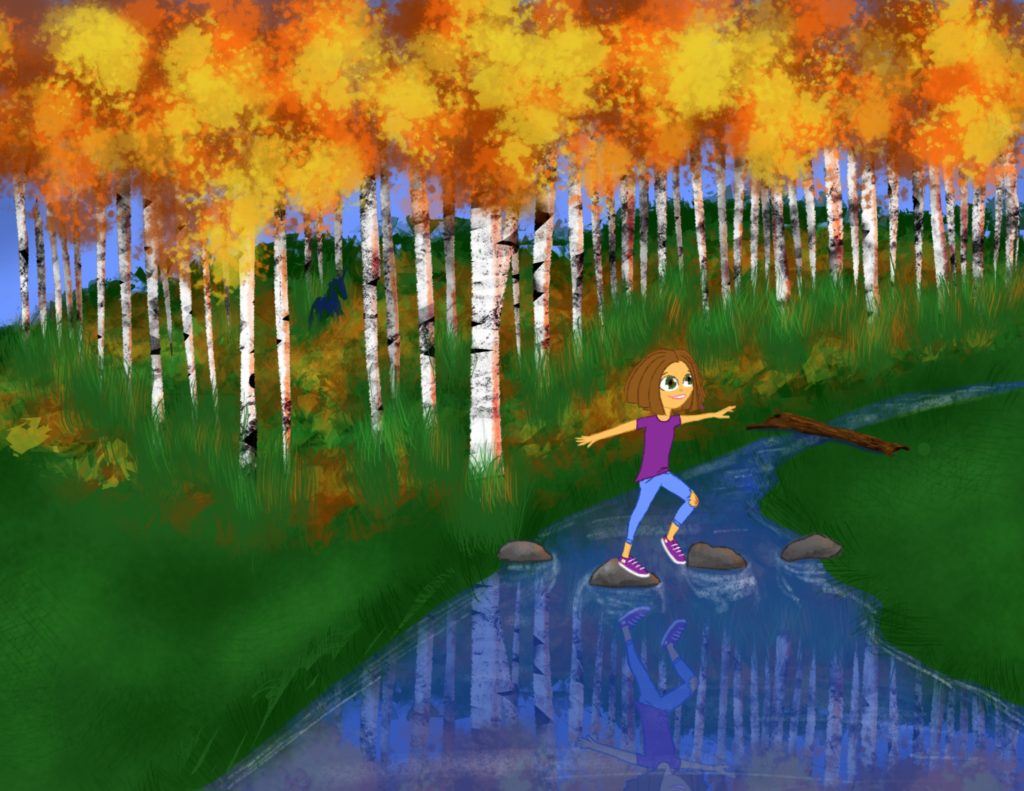 Neuroscience is demonstrating what most of us already know: that we pay more attention to the negative than the positive. Known as the negativity bias, this tendency to focus on bad thoughts and remember our struggles more than our successes is built into all of our brains.
The good news is that we can actually change the function and even the physical shape of our brains . . . just by paying attention! It's a phenomenon called experience-dependent neuroplasticity which is basically a fancy way of saying your brain gets good at what it practices.
About Us
Nicole and Cam are a wife/husband team who didn't mean to make a book together. It just happened. Nicole got the idea first, in the summer of 2015. Years later, after much cajoling, pleading, and perhaps some bribery with freshly baked cookies, Cam conceded and started on the illustrations.
The idea for the book comes from Nicole's amazement when she first learned about the negativity bias. The fact that she wasn't alone in seeing the bad more than the good felt like a frickin' revelation. Add a bit of mindfulness and a dash of neuroplasticity and you have the ability to change how you see the world and to choose how you want to be with everything that happens, bad, good, and everything in between.
Contact us at nicole@followyourbreath.com or cam.marsollier@gmail.com.
About the Author
Dr. Nicole Libin is a certified mindfulness educator, adjunct professor, and author of Mindful Parenting in A Chaotic World and 5-Minute Mindfulness Meditations for Teens. She has led mindfulness workshops, classes, and retreats for adults, adolescents, and children and anyone else who will let her stop and take a breath with them. She has taught and designed mindfulness curricula and other courses for Mindful Schools, Mount Royal University, and private organizations.
Nicole has never liked talking about herself in the third person. It feels weird.
Nicole lives in Calgary with her husband Cam and her daughter Aria who really does love unicorns and helped with every step of the book.
About the Illustrator
Cam is many things, but an artist isn't one of them. He tries very hard though. He's ridiculously in love with his wife and daughter who are more amazing than a personalized barn full of unicorns, and twice as inspiring.